Metro Beekeepers Association (MBA) is an organization of hobbyist, side liner and commercial beekeepers that meet once monthly for learning, fellowship, food and fun. Serving Tarrant and surrounding counties in North Texas. Meetings are held the 2nd Monday of each month. Guests are welcome. MBA is focused on the education and benefits of its members.
2017 Monthly Meeting Dates remaining:
Dec 11th, 2017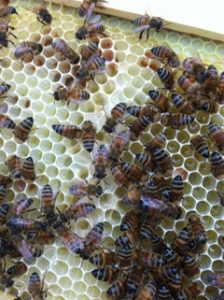 Bee and Bee Equipment Sale
Nucleus Colony Availability
Equipment
MBA Merchandise
Our next monthly meeting will be Monday December 11 2017 in the Southside Preservation Hall (1519 Lipscomb Ave Fort Worth, Texas). Meeting starts at 630p and ends at 830p.
We will have our Holiday Shop and dinner for the December meeting. The Main course will be catered and the members are asked to bring a side dish or dessert.
Vendors can book a spot/table to sell their items (does not have to be Bee related items). If you are interested in booking a vendor spot please contact one of the current board members.
**Membership dues for 2018 are being accepted now. If you would like to join the Metro Beekeepers Association , pay now $20 and membership will be valid from payment date until end of 2018. Go to our Join Now page to pay with Paypal or mail in payment to the address listed. Don't forget to complete the membership form. Or you can pay in person at the meeting with cash or check.
** 2018 Youth Scholarship program candidates were interviewed on Saturday December 9th & will be announced at the January 8th 2018 meeting.**
** Sign up for the 2018 Beekeeping Class- Beekeeping Class begins at 5:30 p.m. The 11 class program is January-November. Class is $125 and includes a book. Please contact Stan Key (lead instructor) for information.
1. Students in course must be members of the MBA ($20/year for you & your immediate family).
2. The focus of the course is education about bee keeping.
3. Course costs are $125, paid in cash or check. This cost is per person.
4. We meet the SECOND Monday of each month (January-November) from 5:30p to 6:25p at the Southside Preservation Hall in Fort Worth (1519 Lipscomb St Forth Worth, Texas 76104).
5. Instructional focus includes: bee biology and behaviors, beekeeping equipment options, hands on opportunities to work in a bee yard, and the best practices in beekeeping. In addition, we will look at many pictures and see ways to effectively manage bees. There will be ample opportunities to ask questions and observe experienced beekeepers in action.
Guests are welcome to attend. Members are asked to occasionally bring a snack or drink to share during break. You can browse the bee-related vendors during the break. Earn One raffle ticket when you bring a food/snack/drink item to share during the meeting break. Earn Five raffle tickets if you donate a raffle item. You can also purchase raffle tickets One ticket for $1 or Six ticket for $5. Raffle ticket sales help support the youth scholarship program. Some restrictions apply to the donated raffle item. Hope to see you there!!
All current Bee Removal permits will expire August 31, 2018. Don't forget to renew your permit
If you intend on continuing to conduct bee removals in Texas, please fill out a new application and mail it along with a $35 check or money order to the address below
http://txbeeinspection.tamu.edu/files/2017/07/TAIS-bee-removal-app-05_2017.pdf
Texas Apiary Inspection Service
2475 TAMU
College Station, TX 77843-2475
Honey Extractor
MBA owns an extractor that members can borrow. Lucy Canez 682-465-4921 Lucy.Canez.2311@gmail.com will be storing the club's extractor and coordinating the check-out schedule. Club members may contact her directly for additional details.
****Members that have recently paid their 2017 membership through the paypal link, please make sure that you have completed the 2017 Membership form & sent it in (by email or mail) and that the membership form was completed with your personal info (optional- business info can be added)***
In need of Bee equipment??? Contact Stan Key for all your needs. He carries everything from hive bodies, frames, foundation, covers, bottoms, tools, gloves, jackets, full suits, and supplements at great prices. He can get almost all equipment you see in the catalogs at the same or cheaper rates.
Stan's Bee Loved Honey and Equipment Company
817-888-0470
stankey.texas@gmail.com
Equipment sales, bees, consulting, removals, and honey
JC's Honey Bees 2017 Nuc Orders
Starting Jan 9 2017 (At the general first meeting of the year) Will begin accepting deposits for their nucleus honey bee colonies. JC's Honey Bees is the provider of nucs for the Metro Beekeepers Association. See Jason Smith at the meeting or contact him at JC's Honey Bees http://jcshoneybees.com/
Get your Raffle Tickets!
MBA now offers two ways to earn raffle tickets. As always, earn one raffle ticket when you bring a food/snack/drink item to share during the meeting break. NEW...earn 5 raffle tickets if you donate a raffle item! Raffle ticket sells help support the youth scholarship program. Some restrictions apply to the donated raffle item.
Post Your Photos!
Post photos on the Photo Gallery Page or on the MBA Facebook Group page and they just might be highlighted during the slideshows at our monthly general meetings. If you haven't "joined" our MBA Facebook Group, do it today, it's a great way to ask questions to fellow beekeepers and more.
New Page Featuring Recipes and Equipment from the MBA Members Check out Members Tips & Recipes for things like bee fondant recipe, build an inexpensive bee vacuum and more.
Photo Gallery - Lots of new photos added MBA Members only can now submit photos. All photos will be reviewed and membership verified prior to posting. View this new feature and submit your photos to be added.